We often get emails asking us what a typical day, or week, looks like for us here in Thailand. It's a great question, so we decided to try and go into a little bit of detail for you about the every day goings on of The Charis Project here in Thailand. To give you an idea I'll describe for you a week that just recently passed.
Monday it was time to transplant the rice seedlings from the nursery to the fields at The Charis Teaching Farm  (See photo album here). Aaron and Sak Chai, our farm manager, were out most of the weekend preparing the soil by tilling in the compost we had sitting in the flooded fields. Our farm is the first in the area to use organic methods and the System of Rice Intensification that the Thai government has begun to recommend, so we're being watched closely to see if it works. (We're also being closely watched because the soil in our farm is dead. We were able to rent it so cheaply because it's been worked to death with chemicals and fertilizers, and nothing put back in. No one thinks anything will grow. They may be right, but we're loading up the compost and organic material anyway to see if we can change that. What's certain is that no one can make anything grow using chemical pesticides and fertilizers on this land. That's a failed experiment.)
Aaron loads up our car with Burmese day laborers and drives them the few short kms to the farm. These workers are from villages near our home and represent families we are supporting and partnering with.
We've been working with these families for some time now. At one point early on we brought them teaching on basic family budgeting. We put a model budget up on the white board and had them input numbers, income vs. expenses, etc. When we were done we all looked at the board and realized that with their current situation, they only earned 50% of what they needed to live. The farm is in response to that realization. It is work and wages for those who need it. It's training in organic farming methods, and how to run an agricultural business. The books are open to any who want to learn the business side. If they can learn to run a business together they can maximize their hard work in ways that benefit them first, not a landlord. They are such hard working people, and they will always be grindingly poor unless they can start working for themselves instead of another.
The kids and I have a similar routine in Thailand as we did in CA, chores, homeschool, admin work, etc. with some notable differences of course. Like Thai class.
One of our oldest son's chores is to make sure we have a supply of drinking water. He walks up to the village shop to buy a 10 gallon bottle of filtered water to carry it back to the house whenever we have empty bottles.
His Thai is improving every day, and with his blue eyes and blond hair, and the way he's picked up the polite Thai way of bowing in greeting, he's the darling of all the shop ladies in our village. They tell me that I can leave a few of my children with them for a while, I have so many, and they will take care of them until they grow up. I can have them back when they are grown, they assure me, as this is the time when children are considered useful and worth having in this culture. Adult children are expected to stay close and help their families, especially their mothers, but younger children are often sent off for someone else to raise, an aunty, a friend, so the parents can keep working. It's something I try to wrap my head around all the time, how often parent's will just drop their children off at a home, or monastery, and give that responsibility away to someone else. It strikes me as a desperate choice made because of limited options.
Tuesday/Wednesday In the afternoon we join our little homeschool co-op, consisting of local and expat families, for group classes. We have 3 classes together every week, music, art, and Phys. Ed. I teach the music class.
(We have dreams of starting an International School in this city. It would be a service to the community and resource our larger projects. But that's a few years away at present. ) We have to drop Aaron back off at the farm before driving to class this week, we share a vehicle, and the bumpy muddy roads splash mud through the center console where the gear shift is. The rubber cover fell off long ago.
I am always wiping off flecks of mud from my face and clothes that I discover during classes. We drive back to the farm after class and hang out there while Aaron drives all the workers home.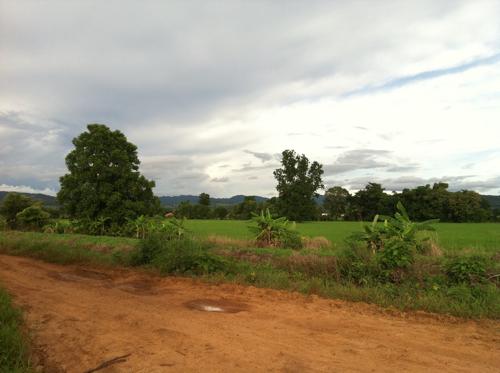 The kids take advantage of the opportunity to swim in the fishponds beside the farmhouse, jumping off the over-hanging mango trees into the water below. The reservoirs make us much less dependent on rain and the city irrigation, so we can grow vegetables all the way through hot season when there is no rain at all. Right now they are overflowing.
Thursdays are my office day, usually. This week Aaron had meetings with a few different foundations here in town. There is always paperwork and meetings, and relationships and connections to build with others who are working to help the people here. Often he has to drive up the mountain to the children's home. But it's so well run, and our staff there are so wonderful that they don't really need us for the day to day. Our trips are usually to help them start new businesses, deal with government stuff, or to have staff meetings where we talk about direction, and policies, as well as the backgrounds of the kids in their care and the best way to help those families succeed so the kids can go home.
They recently received a donation to help cover the cost of irrigation so they can grow vegetables all year long on the land right beside the house. Once the rice harvest is in, they planted the 10 rai we purchased last year with mountain rice this season, they will start a new commercial egg business, growing and selling organic feed as well. No one sells eggs up on the mountain, so people either have to raise their own, or travel into the towns to buy them. This makes them quite expensive. We can make a profit selling the eggs for less than they cost to bring to the local market, and they will be better quality. Some of the older boys will be getting real life business experience by doing the accounting for the egg business as well.
At our last staff meeting they told us that no one in the village believes that they work for so little, because the home owns so much land now and is doing so well. The truth is, they are more or less volunteers. They get paid enough to cover a few family expenses. They are just that committed to the work that they do. As the home becomes more financially self-sufficient we are moving to change that. We want them to be paid what they are worth to us.
Instead of going into the office in town this Thursday, I work from the home office. I do all of the administration for the US nonprofit corporation that we established, as well as much of admin for our programs here. I oversee the bookkeeping for the different businesses we have running, for example. My official title here is lead education developer, which means I design and implement community training classes based on identified needs in the communities we serve. So far we have provided classes in English, Thai (for Burmese migrant workers), basic accounting and budgeting, nutrition, disease prevention, early childhood development, and female reproduction. Sometimes I teach the classes, sometimes I'm able to use the expertise of visiting volunteers, or have our paid staff teach.
My current project is a prenatal and baby care class. It takes me about a day and a half each week of prep time to prepare for each class. We're in the 7th week of a 12 week long class. I've been using all of my old training as a childbirth educator and doula to customize a course for these women that is relevant to their situation and culture. The hand outs are all illustrations, because many can't read, so that they can take them home and share with the other women in their community what I teach them. These are women who don't actually know how conception really works, or what their bodies look like on the inside, or really anything that you and I take for granted. They are fascinated to learn about themselves this way.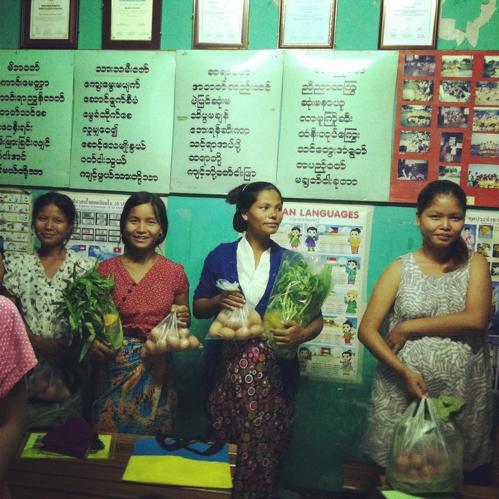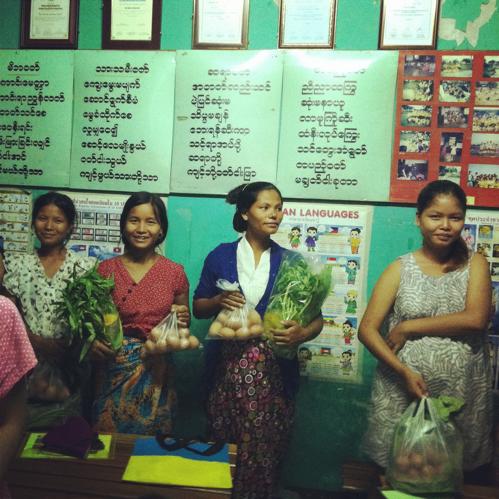 A few weeks ago, as a follow up to a class in prenatal nutrition, I asked how many found it difficult to get the kind of nutrient dense foods we had talked about in class. I surprised them by bringing out bags of food to take home, dark green vegetables, beans, eggs, and pumpkin.  The bags are big enough for them to be able to share with their large families at home, which I know they will do. I'm so thankful for those that responded immediately to the blog post I wrote about their situation and helped pay for this food. We will keep providing these nutrition packs until the babies are at least 6 months old. Longer if needed.
Friday, the rice was finally all transplanted and after a quick check of the fields Aaron came home so I could go into the office at last. Our offices, for Charis, and the Mae Sot branch of the Thai foundation we partner with for legal purposes, are upstairs of a little store we opened called Charis Consignment Shop and Coffee Bar.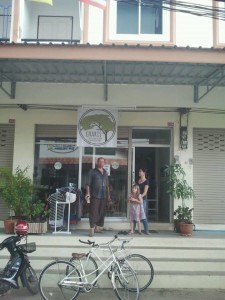 It's a Coffee Shop/western style secondhand store that mostly serves the expat population of Mae Sot. There are many westerners moving in for a while to work with an NGO and then moving out again and we help the newcomers find affordable furnishings and clothes, and those on their way out have a place to donate their stuff, or have us sell it for them for a 10% commission. When I'm at the office I usually spend a few hours working with the staff on things like pricing the donated merchandise, sales displays, and book keeping. They are getting more and more confident in their jobs as time goes by, so most of the time it's just fine-tuning now. I hide away in the hot upstairs office for several hours and try to get through all of the administrative tasks that pile up over the week. I only get a half day of work because I have to go home to meet our Thai teacher for class and then take the kids to home school co-op for Phys. Ed. It means I'll be working late into the night all weekend. We both usually do, a 1am bedtime is early for us.
Saturday morning we get up way too early for a Saturday and go to visit our Burmese friends who live in the migrant village and serve the community there. My friend Christine has asked me how to make pancakes, so I bring all my supplies to her mud brick house that they built over the course of last hot season to show her how. Aaron has cured some fantastic bacon for the occasion also. We hang out in our friend's kitchen, frying pancakes and bacon, while village kids run in and out and our kids run out to play with them.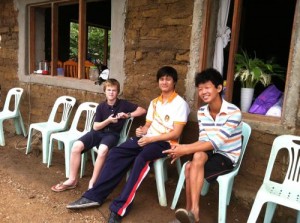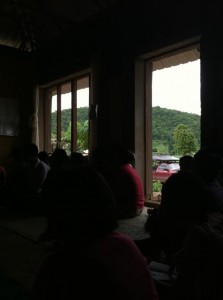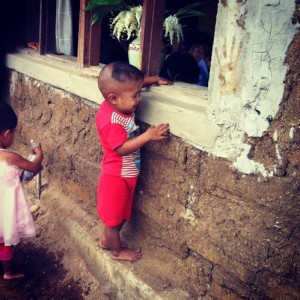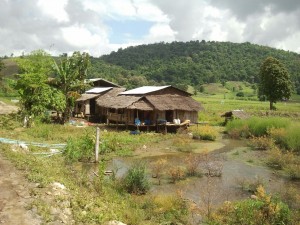 Village life continues as we sit and talk. The women are cooking a fish curry in giant woks balanced on bricks over an out door fire for the community to eat together at lunch.
After lunch we teach the village kids an English class, as we do every week. The older girls refuse to participate in a rousing rendition of an action song, because they think it looks so silly, but the younger kids love it.
Once English class is over we bid our friends goodbye and drive the short way home. Saturday night is family night. We make a dinner of spaghetti and meatballs, a real treat, and eat special snacks while watching a movie together on the laptop. Then I stay up quite late finishing the handouts for my birth class the next day.
Early Sunday I meet with my TA for the birth class before she goes to church. She is my next door neighbor, so breakfast meetings on the weekend work best for both of us. We join some other expat families Sunday afternoons for house church. After church we stop at the market for the eggs and veggies for the nutrition packs.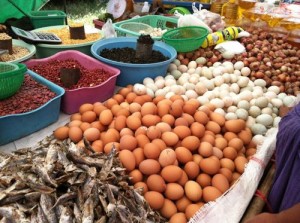 We make sure the farm tools are cleared out of the back of the car and I drive out to the camp to pick up the pregnant women who attend the birth class. The kids come running out yelling excitedly when they see our car pull up. I feel bad telling them I'm only there to pick up the women, not to teach a class for them. I stop to pick up more women at 2 other camps,  9 pregnant women squeeze into our car, and then drive to the migrant school to start our class with 21 passengers in the back, if you count the babies. The class is in Burmese, and I enjoy having the time to watch their faces as the translation is happening. The class goes late tonight.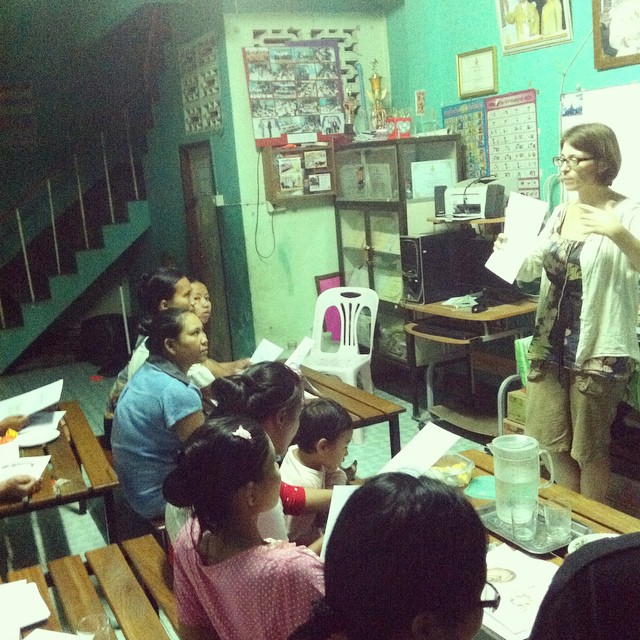 I ask if they want to stop before I'm finished all the material but they want me to continue. I drive home many yawning and weary pregnant women, laps full of food, and then come home to the kids almost asleep. Aaron and I talk about the class for a while. We both work a few more hours before crawling into bed. Tomorrow is another busy day.