From Mary, who lived at the orphanage for several weeks teaching the staff and children English.
I lived and taught English for two years in Korea to high school students before going into the Charis Project. When I learned I would be teaching the staff as well I was excited to get the chance to teach adults because it is just a whole new dynamic of teaching compared to kids and teenagers. Well, I learned that there is a reason why people say it is easier to learn a language when you're young and when your brain is like a sponge and can pick up almost anything.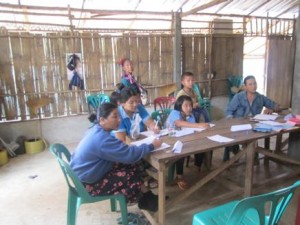 I teach the adults for 2 hours during the day when the kids are at school and it is definitely a challenge but super rewarding. There are the full time staff members, consisting of 2 sets of house parents, and their level of English ranges from zero to a little. So while their level is almost the same, the learning curve for each of them is very different. Which makes it challenging for a class of 4 students! Everyone in the village pretty much knows that there is an English speaker at the orphanage so there have been a few villagers that join the day classes with the adults.
I've gone over all the letters and the sounds of the vowels. I did not realize how many sounds each one of our English vowels has! I've also drilled the standard introduction questions into their heads and still a couple of the students struggle with it. Often when I ask "How are you?", I get the response "I am 40 years old." Juda, one of the house dads, has the hardest time pronouncing many of the letters and seriously for the letters D, G, H, S, and T, they all sound like he is saying "F. It's really funny because the other students hear it too and we just laugh! After a several times of practice, he just couldn't get it and that is when I just have to learn to step away and come back to it at a later time!