Baan Saeng Saiwan – (House of Heavenly Light) in
Tak Province, Thailand
prototype home
We're very pleased to see Juda come into his own as a leader and manager. He is making plans and thinking long term, 3 or 4 years out into the future now. In the past he was in the habit of saying, "We have this problem, what should we do?"
As time goes by and he gets more and more of a vision for what the home is to become, he is now saying things like, "This is what I think we should do about this problem, what do you think?"
To reach this point he has had to overcome some deeply ingrained cultural thought patterns that are common to any culture that suffers poverty and chronic displacement, such as short term thinking and an aversion to risk. This is a real triumph for him and we're really excited for him and the future of the home, especially as he now begins to model this sort of thinking for the children.
On Aaron's most recent trip they sat down to talk about the future of the children in the home, their extended families and some specific issues they see arising. Juda had been considering a long term solution almost identical to what Aaron had been planning to propose to him. It was very exciting to see how his thinking has changed and how he has grown as a leader for the home and for the kids.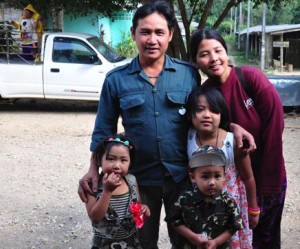 We also learned that Juda's wife Saeng Chen is expecting their fourth child early next year. This is very exciting news. We pray for the health and safety of both her and the baby.