***For 5 weeks we were privileged to have Mary stay at the children's home in Tak Province and give English lessons to the children and the staff. What follows is some of her story of the days on the mountain.***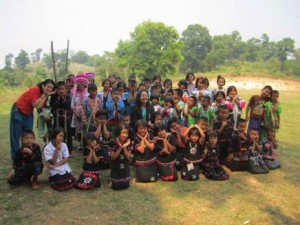 Mary with some of her students. The village kids came for lessons too.
The roosters crow a good hour before the alarm on my iPhone goes off. I wake up and realize that I am no longer in my comfortable apartment in Korea, where I taught English for two years. Instead, I am in a small remote village hidden up in the mountains of northern Thailand. It always takes me a few moments to mentally prepare myself for what I will walk out to and what I can expect for the day after I hit the snooze button. About a year ago, I emailed Carrien and Aaron Blue about volunteering and teaching English at the orphanage but little did I know that this opportunity to volunteer at the Charis Home would enrich my life as much as it did. Every morning, when I leave my orange room, I am surrounded by the beautiful green hills that once served as a home for many of the hill tribes decades ago. Now, the forest is mainly a place where the villagers hunt for frogs, squirrels, and birds.
Kru Mary has become my new identity, which translates to Teacher Mary in Thai. "Sawadee-ka Kru Mary" and "Sawadee-krup Kru Mary" are the greetings since my first day at the orphanage. I am not only their English teacher but also the first foreigner they can actually just hang out with for longer than a few days. I live with them, eat the same food as them, and used the same bathroom as them and in so many ways, they have embraced me into their family as one of them. It doesn't matter that I don't speak Lahu or Thai and it doesn't matter that I don't look like them. To them, keeping an open-mind and showing that I actually care and am interested is all they need to feel safe. For me, this is a way to immerse myself in the hill tribe life style and for them, it is a way for the children to learn how to build friendships with people from different parts of their world, gain confidence, learn about the world around them, and find similarities and embrace differences of people unlike them. I know I have a big responsibility but I am ready to take it on.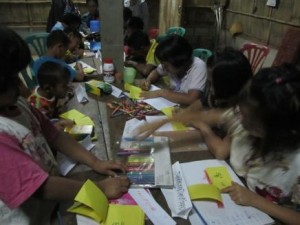 Naturally, it took many of the kids time to get accustomed to my being here. Some of them even thought it was strange that I was still here after a few days had gone by and a couple of the teenagers asked the translator when I was going home. When they learned that I was staying for 5 weeks, they just gasped in shock. After the first week or so, it has become a routine for the younger kids to hang out and swing on the hammock outside my room, singing "Merry Christmas, Merry Christmas to you to you all. Merry Christmas, merry Christmas to you all!" It's March. I smile as I watch them sing proudly and loudly every morning, and it doesn't matter if it's March or December, it's an English song and they are happy to serenade me with it almost every morning.