As an essential part of our continued work to protect children and strengthen families, our founders, Aaron and Carrien Blue recently moved to Thailand with their family in order to be closer to the developing projects and able to more quickly and efficiently develop the structures and training materials needed to bring our vision to fruition. Here they answer a few of the most frequently asked questions about what exactly they are doing in Thailand.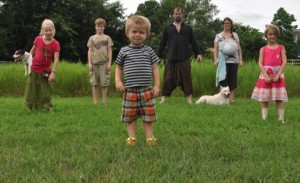 The Blues, all 7 of them.
Are you going to live at an orphanage?
No. It is our goal to foster as much independence as possible in our staff and project managers. This is much harder to accomplish if we are always on site to give immediate help and answers. We have deliberately chosen to live away from the project locations in order to give the staff the space to work and problem solve on their own and only get help from us when necessary. There will be seasons when we will need to be onsite more full time, such as staff selection, and training. But when those are complete we will be stepping back to let things run without us and to let the staff manage things on their own as much as possible.
It is our long term goal to work ourselves out of a job, which involves having people managing the orphan care facilities who can function, direct, and plan with confidence. This is a hard thing to accomplish, especially in an Asian culture where people are conditioned to be very hierarchical and extremely deferential toward authority. We are very excited about the progress that has been made so far and want to be out of the way as much as possible to allow it to continue.
So what are you doing then, if not running an orphanage?
Well, to begin with, technically it's not an orphanage, it's a residential care facility. Second we're teaching people how to run it, with the eventual dream of doing away with the institutional model all together. We're developing educational materials that can be used all over the world to teach people how to provide for the needs of children at risk in their own communities through the establishment of entrepreneurial social businesses. Our prototype child care communities in Tak Province and Mae Sot are the developing and testing ground for this curriculum and the place where we refine it until we have something that works, even without us around as teachers.
How are you supporting your family?
It's a combination of several things. We've put all our savings as a family into this. We have also received generous support from people who believe in this project and want to give us the ability to see it through to fruition. In addition, we intend to practice what we preach and create our own entrepreneurial income streams through small business here in country as our visa requirements will permit.
Did you really have a baby at home in your shower in Thailand?

Yes. See details here.
How long will you be there?
We have committed to 2 full years here in Thailand. This is an ambitious timeline in terms of realistically accomplishing the goals we set for ourselves. At the close of those 2 years we will reassess to see if we are still needed here. The 2 primary goals are to bring the Charis Home to 100% self sustaining and disperse it into a community, family style, model of child care. Second, to build support and hands on business training methods that help families survive and thrive. Integral to that is to have developed the the community education training curriculum for use in future projects as well.
Updated – We plan to be in Thailand a really long time.
What does a typical day look like for you?
First of all, everything in Thailand takes time. Everything happens more slowly, from getting your car back from the mechanic to picking up your food from a restaurant. Relationships involve significant investments of time in order to
Each day is a little bit different, depending on what needs to be done. For Aaron that may mean going into the office to work, check up on our staff, TinTin our assistant director, etc. It may mean having a conversation with an employee or partner about trying something new in the store or on the farm. Some days are fun and he will work on some new recipes for the drinks served at the coffee bar. There are many meetings, with, people from other organizations, people in the communities, volunteers, donors, etc. Some days he will need to go to the farm, check on progress, meet with our farm manager, talk to other farmers about finding the best source for some of the materials needed. Other days will involve a drive up the mountain to the children's home to meet with our staff up there, look at the progress of projects and provide input. Sometimes there's a policy meeting or talk about how to handle a certain issue. We encourage our staff to bring their own ideas and solutions to the table so there are many discussions, most of them quite useful. He also has Thai classes a couple days a week as he keeps working on speaking at least one of the local languages fluently. Aaron is always learning, reading, taking online classes, etc. He stays on top of the latest ideas in business development, sales and marketing, management, education, organic farming, and anything else that might be helpful to us in our work of helping families and communities.
Carrien always has a child with her. No, literally, always. The baby still cries if she leaves him for more than a few minutes at a time. Most days for her and the kids start with chores and home school. Afternoons the kids play or work independently, ideally, while Carrien tries to get things accomplished at the home office. Some of the things she works on are blog posts, emails, newsletters and updates, managing social media so you can stay in touch with us, accounting, both for the businesses here in Thailand and the 501c3 in the US, administration for the local office and the US non profit, and researching and writing content for community education classes: positive parenting, early childhood development, child birth, baby care, nutrition, business math, etc. Some afternoons she and the kids meet up with other home schooling families in the city for art classes, P.E. and the music class that Carrien teaches. On Carrien's office day, she takes the baby, and sometimes one other child to help with the baby, and goes into town to the Charis office, also home of the Charis Consignment shop and coffee bar. In theory it's a quiet distraction free day to get work done. Much of the day is spent helping with the store; training staff, answering questions about pricing for donations, arranging displays, etc. She and the kids go to a migrant camp one day a week after the kids get out of school to teach English and other fun activities for the kids there. Any classes are taught after dark in the evenings, once the work day is finished for the families and women that she teaches.
What do you need? How can we help and be involved?
We could use support in every way, financial, prayer, partnerships, networking, connections, etc. Starting up and running a household from scratch, as well as any businesses, is expensive here in Thailand too, thought not quite as much as in the US. If you would like to donate specifically to support us in our work here please designate Educational Development Fund on your check or in a note.
If you have any other questions for the Blues about their work in Thailand go ahead and ask them in the comments. We'll do our best to answer them for you.