I think my favorite thing about the make-shift family we have participated in forming up on the mountain at the children's home is the grandparents.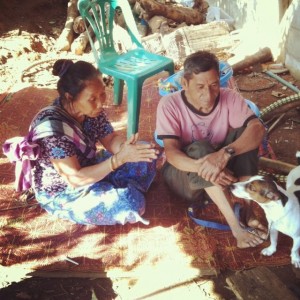 I'm not certain, but I'm pretty sure from what I've seen so far that most kids growing up in some sort of orphanage or institutional care don't get to have grandparents.
But that's the beautiful thing about Baan Saeng Saiwan. It's not really an orphanage, or an institution, it's a family. A really big family with lots of kids.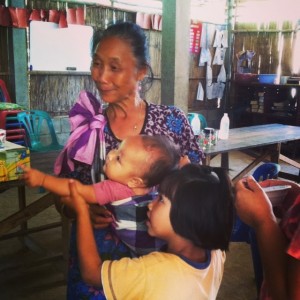 You see, Juda and Jonah, our two house dads, are brothers. Their parents live in the same village as they do and come to the home often, just to be with family.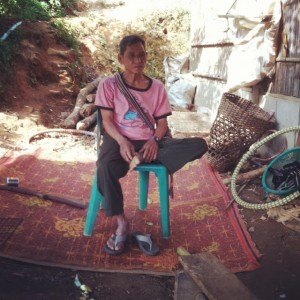 Grandpas's favorite spot in the shade.
So if you are there you get to see things like, grandma teaching one of the girls how to cook an omelet in a wok over an open fire. Or grandpa demonstrating the proper way to skin a chicken to a group of boys.
It is the most ideal situation you can imagine in an intrinsically unideal context.
And yet, it is because we know how often this type of thing isn't ideal that we are working towards what is known in the business as "de-institutionalization".
The model for self sustaining orphan care is not complete unless it also includes a plan to get children out of orphanages and back into loving families where ever and whenever possible, either by helping their birth families to provide better care, or by resourcing other families in the community to care for these children.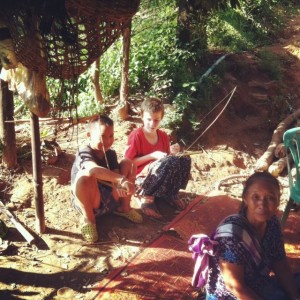 This isn't always going to be possible. So we will continue to work to make it possible for more children's homes to be like the self sustaining family at Baan Saeng Saiwan rather than institutions as well.
But our end goal is to always keep/put kids into families. Because that's what every child needs.