by Michael McMahon, Charis Teaching Farm Manager & Researcher

The Charis Teaching Farm has been in transition with staff changing over, new projects and the dry season in full swing.  It has been a time of exciting change and new developments.
Staff Empowerment
In December, our Farm Manager moved back to Chiang Mai.  I have been filling in as the Farm Manager since then.  I began by hiring a man with a decent amount of farming experience and a great work ethic.  The other man, who began working with us a few weeks before the previous Manager left, has proven very experienced and trustworthy.  I am currently training him to take over as the Farm Manager so I can step back and focus on research and development.  In general, the desire for the Charis Project is to hire local residents, train them, and empower them to bring the Good Life to the world around them, thereby enacting a positive change and restoring the world where we live. Building up these men is a great example of this.
Preparation and Policy
We've been in the dry season since November, which means switching gears from rice to cover cropping and vegetables.  We began the season by moving our compost piles around the farm so that we would have easier access to compost when planting crops.  Next, I made a policy that we would have each field generate it's own compost in the way of cover crops.  This promotes soil nutrient retention while saving farm staff extra work by walking from one end of the farm to the other.
Cover Crops
While this was happening, our cover crops were being sown: Sunn Hemp, Mung Bean and Soy Bean.  Mung Bean and Soy Bean are edible crops, but being beans, have the extra benefit of nitrogen fixation (this means they breathe in nitrogen from the air and put it into the ground!).  Sunn Hemp offers the extra bonus of pulling up potassium and phosphorus from deeper in the soil as well as being an excellent forage crop for goats and deer should we ever enter that arena.  While cover crops are growing, they also help to control weed growth.
When the cover crops come to the end of their life cycle, you can collect seed or cut them earlier for greater nutrient return to the soil as a green manure.  By using it as a manure, you gain a ground cover that helps to retain water and protect against weeds while your newly sown crop sprouts under it (the next crop is sown just before cutting).
Development
We are developing new cover crops: Buckwheat and Jack Beans.  Buckwheat pulls phosphorus and draws in bees.  The seed is commonly used to make flour for baking crepes!  And the bees add the benefit of making honey if we decide to go that way and also pollinating more crops.  Jack Beans get their name from Jack and the Bean Stalk according to my son because they can grow as tall as 14 feet! Jack Beans work similarly to other beans in fixing nitrogen.
During the dry season, we have to water either by hand (in the case of vegetables) or by water pump (for entire fields, mainly for cover crops).  In order to save our workers time and energy, we are currently implementing an irrigation drip system.  By filling the tank with the water pump, we will increase our efficiency and also affirm our appreciation of our workers because lugging around buckets of water gets tiring after a while.
Fruits!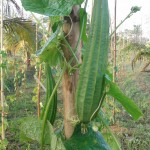 Because of all the work we've done these past two years, our land is bearing fruit. Our Luffa (a vining squash) is popular among the Burmese women to whom we give nutrition packs.  We recently added Chinese Mustard to it this past week and will soon have Chinese Kale and traditional Tomatoes to offer as well!  Also growing is Sweet Potato, Cucumber, Golden Pumpkin, Watermelon and Sweet Corn.
It is truly amazing that our farm is doing so well.  Two years ago, it was dead due to overuse of chemical inputs.  But I must stress that this is all possible only because we have established a healthy foundation: investment in people with whom we work and investment in the soil on which we farm.  These two are vital to the health of any farm and they are interconnected.
The Charis Teaching Farm is just one example of how the Charis Project goes about proclaiming the Good News that God is reconciling the whole world back to Him. We are taking seriously the call of Jesus to preach the gospel to all peoples.  It is amazing to see how restoring the land restores people and how restoring people restores the land. He truly does renew all things.