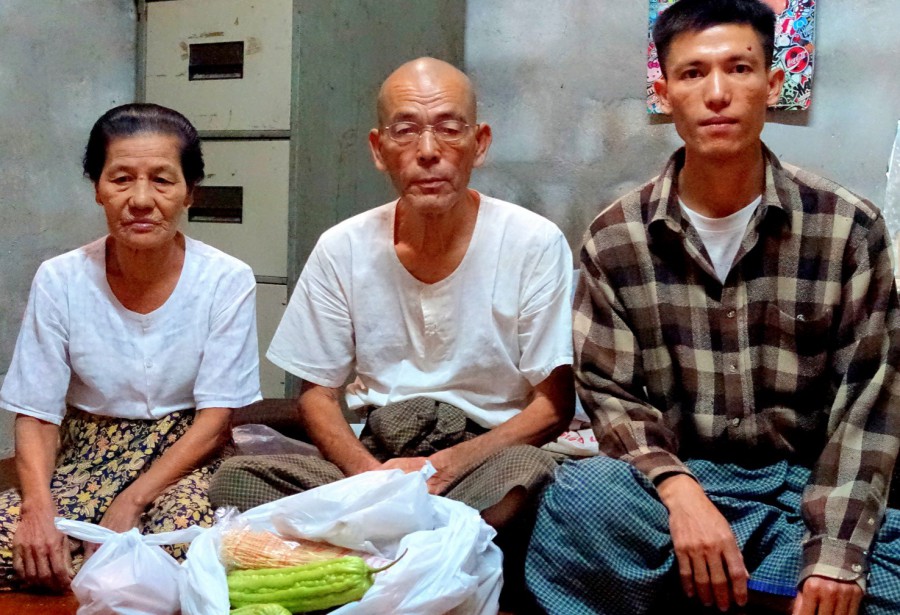 Ten years ago Ko Aye Min left his 60 year old father and 64 year old mother in Bago, Myanmar. He came to Mae Sot to find work so that he could support his aging parents. Things were going well until 2 years ago when Ko Aye Min was diagnosed with throat cancer.
Fortunately, he was able to find treatment. But he was in hospital and sick for a long time. He was no longer able to work to support his mother and father. His elderly parents decided to pick up what little they had and move to a place they had never been before, and knew no one, to care for their sick son who had moved here to support them.
When they arrived here in Mae Sot and saw Ko Aye Min's condition, his mother became so depressed that she would not eat, could not sleep and stopped talking. His father fell into despair for his wife and son since he could do nothing to solve his family's crisis.
In this time the family borrowed a lot of money to pay for treatment and to survive while no one could work.
Slowly, Ko Aye Min got better. He grew stronger and begun to work very hard to support his parents, now 70 and 74, and to pay off their debts. But he could barely make enough money for food.
In October 2017 Shade Tree Foundation began visiting this family every week. They are a strong family that works hard to support each other. When they came into crisis they pulled together. But the situation was becoming too big, even for them.
We have had the opportunity to become friends with Ko Aye Min and his parents, to encourage them and counsel them. In addition, we have helped them with food supplies. In four short months they have mixed our help with their strength and are now debt free.
Dad is happy and hopeful. Mom is no longer depressed. Ko Aye Min is stronger every day and successfully providing for his parents in their old age. They are even saving money for the future.
Exodus 20:12
Honor your father and your mother.
Mangala Sutta
The Buddha said, "Mātā pitu upatthānam etam mangalam uttamam" which means "Supporting parents is a great blessing. Having good parents, kind hearted parents, is a great blessing to a family, a great fortune."