Thank you friends for all that you do to care for the kids at risk in Thailand.
Without you none of this would be possible, and on behalf of the children you cared for and kept safe in 2013 we thank you, from the bottom of our hearts, for caring enough to do something about their situation.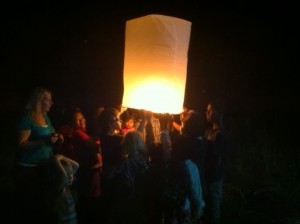 Launching a New Year Lantern
Our end goal, from the beginning of The Charis Project, has been to work ourselves out of a job. Part of that has been to enable orphanages to put themselves out of business by strengthening the community around them to the point that the orphanage becomes an unnecessary resource.
This year, we spent more time connecting with people who run orphanages, and the children who live in them, and the families who place their children in orphanages because they feel they have no other option.
Through this we came to the conclusion that our immediate goal hasn't been big enough.
It's not enough to work in a community with an eye to future generations being raised in families instead of institutions. The kids we are taking care of today, many of whom have some manner of extended family back in their home village who feel unequal to the task of providing for them financially, educationally, and emotionally,
they need us to help them grow up in a family too.

They need us to help their families, now, to be stable enough to keep them.

They need to grow up knowing that family is best, and not thinking that leaving their children in an orphanage to be raised by someone else is an option.
So we are accelerating our timeline, and figuring out how to implement Phase 2.
Phase 1, create a self sustaining orphanage model, is well underway, and on track to being complete in the coming year.
Phase 2, to transition a self sustaining orphanage into a community center that provides support to families, both birth and foster, that the children in the orphanage at last go home to, is something we must now make happen.
In addition to that we are working out how to empower families in crisis right now, to help them stay together.
When we looked at this goal we thought, "This is impossible." But then we realized, everything we have accomplished up until now seemed impossible when we first started it, and thanks to you, it has happened.
So this important task, of keeping kids in families, and reuniting kids with families, is the next impossible thing that we are going to tackle in 2014. Thanks to support from you, we think we might have a chance of making it a reality.