"The Charis Project gave me knowledge that I never had an opportunity to gain before. Thank you very much." – Ma Phyo, a mother of four children
About 10 years ago, Ma Phyo left her home in Myawwaddy to find a job in the District of Mae Sot because she was in financial difficulty at home. Here she met the man who is now her husband. At that time, their income was enough. But not long after, the factory they were working at closed down. This sudden job loss happened just as Ma Phyo became pregnant for the first time. Over the next several years the family found themselves in a spiraling crisis situation. While they continued to work as jobs were available, their situation was rarely stable and expenses continued to increase as they added children to their family. One of her employers even turned out to be trafficking people and was later arrested. The family had to move several times. It was their last move that they came to stay in a community where The Charis Teams were already connected and we found out about their situation.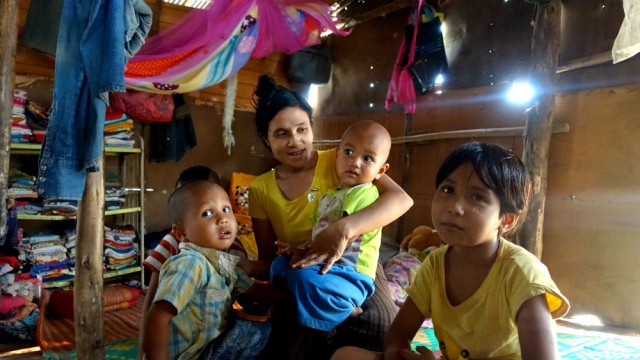 FAMILY RESCUE THROUGH WEEKLY SUPPORT
"I got to know the Family Rescue teams through a friend of mine. The teams contacted me, asked about our situation and began to visit and give us nutrition support every week. Eventually, I attended their family education classes on Fridays."
"The family support teams have visited and brought us food for 2 years now. It has made a big difference. Every day now we have had enough food for the whole family – children, me and my husband. Not only does it make our stomach full, but their visits bring happiness to me and people around me. Sometimes when I find other families in difficult situations, I share our food with them and encourage them, just as I have been encouraged."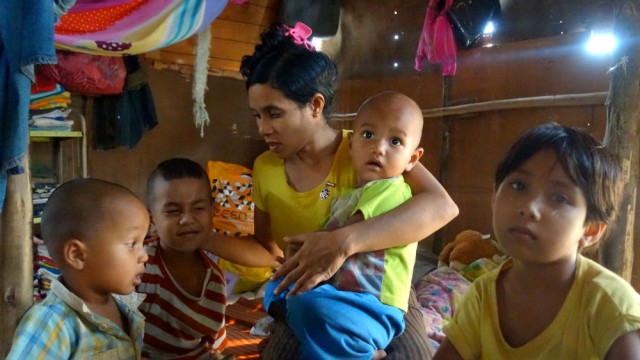 STRENGTHENING THROUGH EDUCATION
The first class Ma Phyo ever attended was our Family and Positive Parenting class. "It was very helpful. I was transformed in a lot of ways. I changed how I treat my husband and 4 children. I learned different ways to teach my children when they do not obey, without beating them for punishment. I told my husband about the class and what I have learned from it. He said he wanted to join, but he usually came back from work late so he never got a chance to go."
"Since taking the class I've had less fights with my husband. Before, when my husband couldn't find a job I would speak to him very harshly. Now, I show him I am on his side trying to understand and encourage him. I have a warmer, stronger family where everyone grows closer to one another."
BUILDING INDEPENDENCE THROUGH FAMILY ENTERPRISE
"I liked the class about family relationships a lot. But when I joined the savings class, I found that I liked it even more. That is my favorite. Now I have 4,000 baht in savings from my job. I have saved 100 of my 200 baht income daily since I began to work there 5 months ago."
"Two months ago I joined the a Village Savings and Loan Association group. (Run through our Family Enterprise program.) Now I have more than 600 baht in VSLA account. This is separate from my savings from my job. Also, every month my employer gives me bonus of 1,000 baht because I washed clothes and helped with some other work around the house."
"This is the first time that I've been successful at saving money. The members in my savings group always remind one another to save as well.
Back when I joined the saving training the speaker said I can start little by little. At that time I chewed betel nut. At least 10-20 baht/day. The teacher explained that if I chewed less betel nut I could save that money. She showed me how much I could save in just 10 months. At night I was thinking about how much I could save and I decided to stop chewing betel nut completely so I could save that money. I also buy my children sugar snacks less often."
Ma Phyo is now very close to her goal of saving enough money to start her own fruit stand as a side business.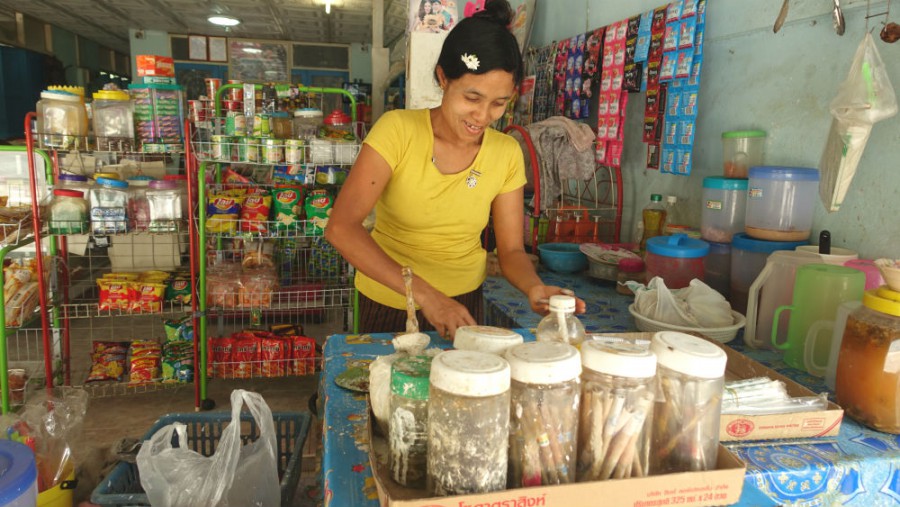 Ma Phyo no longer receives nutrition support from The Charis Project. This is because she is now stronger physically, emotionally, mentally, and financially and ready to step forward to a better future for her children and family.
To those of you who have helped her family through your support of The Charis Project she would like to say, "I always pray for you. And I want to say  THANK YOU VERY MUCH. I'm very happy because of your help. Every night I pray, I pray for you, for the people who have helped my family."
To those considering becoming first time donors she says, "I hope you will help other families to be well. I want other families to be like me. Compared to the past, now I feel healthy and strong. My family has become a close, warm and strong family."
To help other families like Ma Phyo's past crisis and into strength and security, please Join the Welcome Home Movement. Your monthly donation will help other families achieve strength and independence just as Ma Phyo's family has.
Carrien is co-founder of The Charis Project, Family Education Curriculum Developer, and mom of 6.
You can get her free mini-course on Making Your Family More Resilient here.