We were worried for a short time that she was going to abandon her baby boy. Could you blame her, given her circumstances?
When TinTin went to visit her at the clinic she wasn't there. No one seemed to know where she was.
But we eventually found her. She had gone home to her parents once the baby was strong enough to leave the clinic.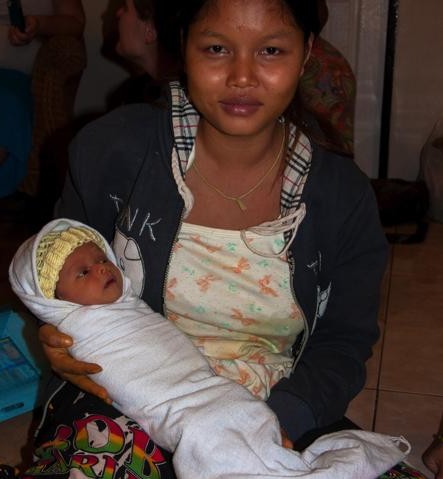 When TinTin visited, the family was having a discussion about whether to keep the baby or not. It's an issue because who would watch this little boy, it costs someone in the family that ability to work to have a baby and small child around. That's a big financial burden for a family this poor.
The little boy's grandfather stood up and announced, "I will keep my grandson. Even if it means I can't go to work, I'll stay home and watch him. I'm getting old anyway and since I hurt my back I can't work so well."
This is really good news. This little boy has a family around him that will take care of him, and so does his mama.
The women in the birth class have come around her and embraced her and are giving her all kinds of support, teaching her to swaddle her baby and helping her with breastfeeding. It's a lovely thing to witness.
Thank you so much for your prayers for this baby and his mother. Things are looking up.
We'll continue to support her with food and more classes and resources over the coming year.
Carrien is co-founder of The Charis Project, Family Education Curriculum Developer, and mom of 6.
You can get her free mini-course on Making Your Family More Resilient here.