Aaron is a creative and flexible thinker and that ability to adapt quickly to new information and situations is part of the DNA of The Charis Project. The approach is based on method, rather than program. Part of this method involves getting to know the local situations and people very well, and entering into relationships with humility and vulnerability, looking to learn, rather than to tell people what they need. Just as Aaron enters most every situation.
Aaron is always busy helping people solve problems. Sometimes it's the Charis Team, local and foreign. Sometimes he's helping tourists, sometimes he drives for 8 hours to go help a crazy guy he heard about who's in jail somewhere else in Thailand. He's the kind of friend you can count of in a crisis. If you asked him he'd say that he's one of those guys who derives personal pleasure from being able to help people.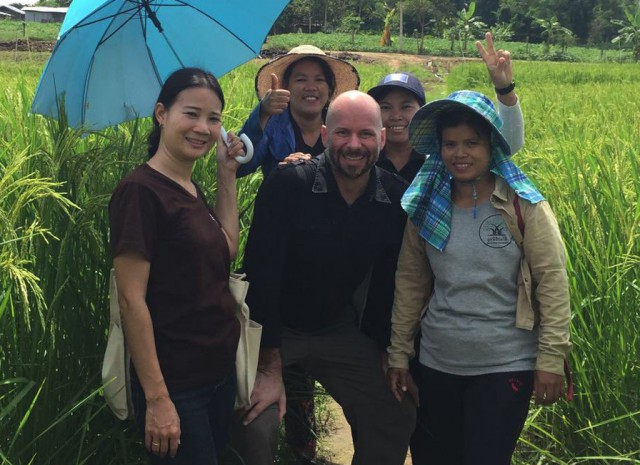 Aaron was raised in a strong family with parents who emphasized personal responsibility and compassion for others.
It's no coincidence then that he would choose to spend his life working to help people, and be heard saying things like, "I have the responsibility to give to the same measure that I have been given, and I've been given a lot!"
It's also part of the reason that he makes it a point to keep his promises, and to have his words and actions line up.
Aaron would like to see The Charis Project do a better job and help more people in the future. He'd like to see TCP improve processes for training and equipping ever better staff, and learn to build top flight infrastructure to support our staff to always better address situations they encounter on the ground working with the people whose lives are desperate.
Someday Aaron would love to live on a sailboat in a clear warm ocean. Maybe he'll do it when all six of his kids have grown up and left home and he's worked himself out of a job here in Thailand.
Outside of work Aaron enjoys making great food, going new places, finding what's on the other side of another mountain, discussing, writing, and teaching philosophy and theology, and watching his kids do cool and interesting things.